Discussion Starter
•
#1
•
Car Magazine did a group test between the Taycan, Model S, Polestar 1 and BMW M5. An interesting comparison that puts electric against hybrid and ICE.
For the Taycan they pointed out that the car is designed with a completely different mindset than the Model S.
To qualify as a hardcore high-roller for g-force explorers, the Model S needs more focused steering, stronger brakes and a more ambitious chassis. Directionally stable, devoid of prima donna-ish airs and graces, it is virtually immune to provocation. Push it beyond its limits for bags of terminal understeer.

Which is where the Porsche has the advantage. It was developed in a world in which Tesla had already shown what was possible. But Porsche hasn't copied every aspect of the Model S. Contrary to the Tesla, which first introduced the one-pedal feel, the Turbo S prioritises coasting over regeneration. This makes a huge difference on B-roads, where the Porsche shines as an effortless glider capable of devouring tarmac at a dizzying rate. The transition from electric to hydraulic deceleration is all but imperceptible at any speed, and at any pedal pressure. Indeed the Taycan's stopping distances eclipse even the 911 GT2 RS, which takes some beating. It's this awesome and almost surreal fast-forward, fast-rewind cycle that lingers in the memory well into the night. Last time this happened, it was after a day spent in the Ferrari 488 Pista.
Overall the Taycan finished second behind the M5.
First place: BMW M5 Competition
Forget infrastructure and CO2 – this is simply the most enjoyable and rewarding car here to drive.
★★★★★
Second place: Porsche Taycan Turbo S
Astonishingly effective; thrillingly quick and composed; hugely desirable; very expensive.
★★★★★
Third place: Tesla Model S Performance
The Tesla's excellent fundamentals have been impressively upgraded yet again, but S feeling its age now.
★★★★
Fourth place: Polestar 1
Stretches the plug-in hybrid envelope in a new direction, but flawed and expensive.
★★★★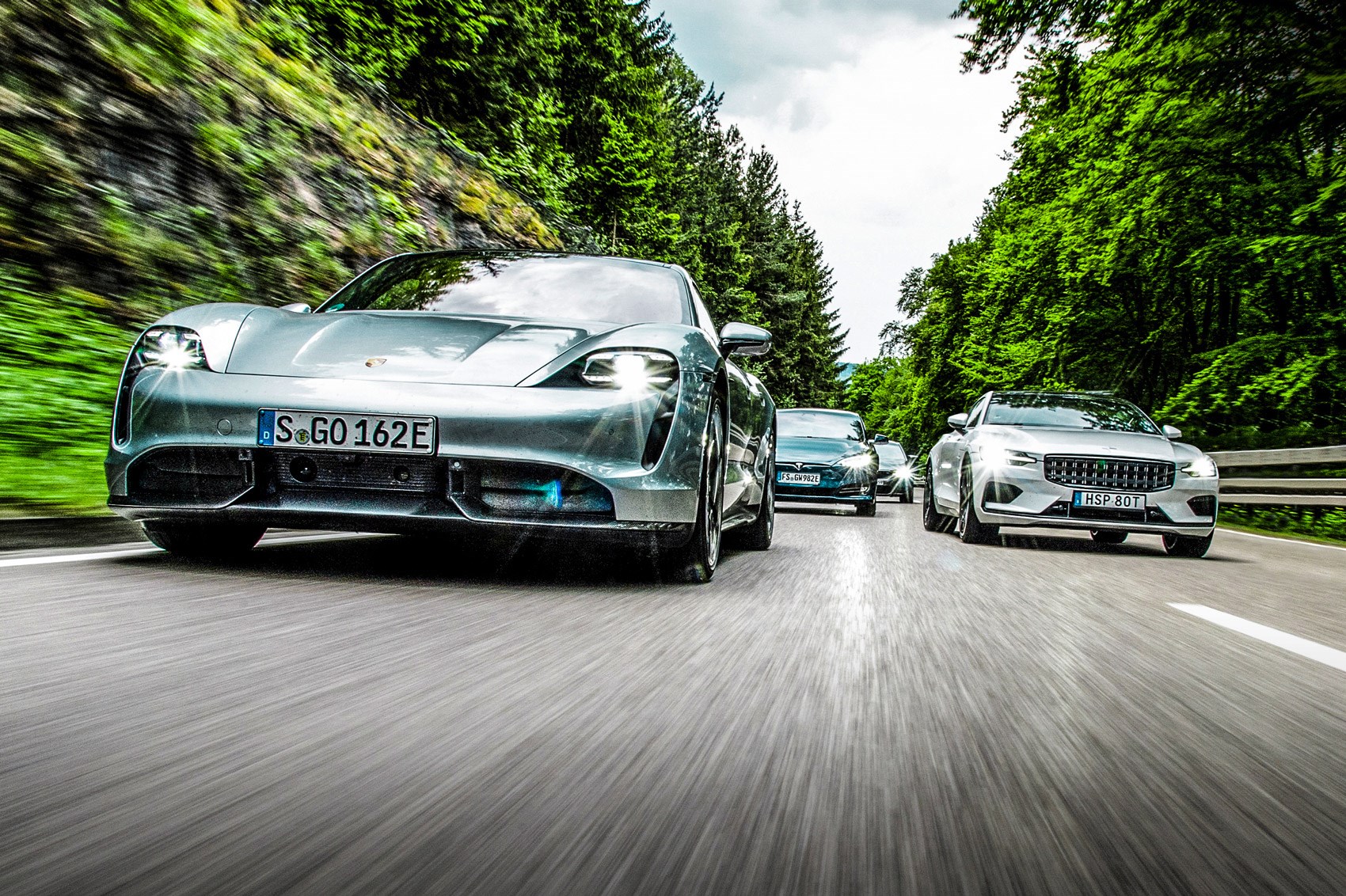 CAR magazine UK tests the new Porsche Taycan Turbo S against a Tesla Model S Performance, BMW M5 Competition and Polestar 1