Discussion Starter
·
#1
·
Car and Driver got a chance to drive a Taycan prototype with Porsche's product line director for EVs, Robert Meier. It's a really thorough article that covers a lot of ground about the Taycan.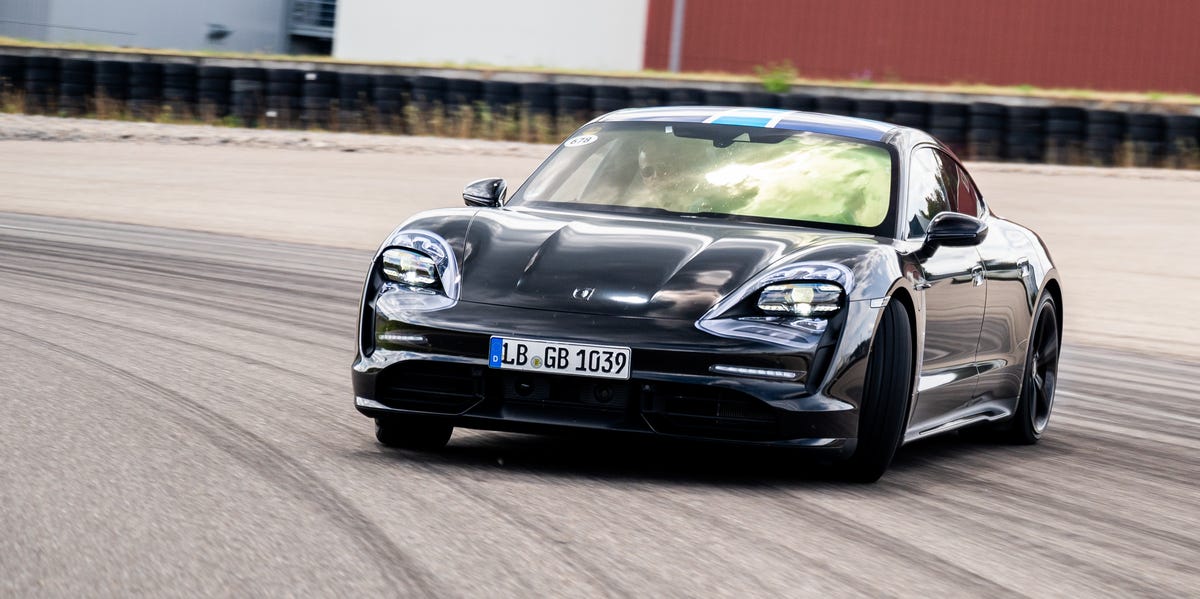 Porsche's electric sedan is shaping up to be the first true Tesla competitor.
www.caranddriver.com
- The Taycan can be both comfortable and sporty to drive
Squealing its Goodyear Eagle F1 Asymmetric 3 tires (there also will be a Michelin option) up Glendora Mountain Road outside of Los Angeles, the trip computer showed 1.3 g's to both the left and right. Although these types of readouts are routinely optimistic and an absolute peak measurement not an average like our skidpad test, Meier said it will have comparable lateral-grip capability to the 911, which, in our testing, hangs on to the skidpad for 1.05 g.

But, anything with the right tires will be grippy. Even better, the Taycan feels like a sports sedan, hunkered down, with one-and-done damping and sorted body control. And yet, it's remarkably light on its 21-inch tires, with an uncanny delicacy to its ride for what is sure to be a very heavy car.
- Acceleration will remain extremely consistent
More surprising are Meier's claims about the consistency of the Taycan's performance, as the acceleration times of EVs, including every Tesla we've tested, tend to fall off dramatically after just a pair of runs. The Taycan supposedly will be able to do 10 launch-control starts in a row with no degradation in performance, and Meier says even when the battery is discharged past 50 percent the performance will be very consistent, with measurable but not perceptible slow-down. This is something we're anxious to test for ourselves at the first opportunity.

Helping to achieve this are the permanent-magnet synchronous AC motors, which were chosen because they enable more repeatable performance, along with being more efficient at high rotating speeds as well as being lighter and more compact, according to Meier. Extremely fastidious control of the heat in the battery pack and electric motors is also critical.
- There will be eco-focused models
In addition to performance variants like the one we rode in, there will be Taycans with eco-tire options, including a wheel design that's largely closed off, which improves aerodynamic efficiency by a significant margin according to Meier, although he wouldn't quantify it.

Overall, Porsche did an extreme amount of efficiency optimization on the Taycan, as EVs, even with today's largest battery packs, have a relatively small amount of energy on board relative to what a gas tank holds, so developing EVs is an exercise in energy conservation. The Taycan has flaps in front of the radiators on each side of its nose, which, when closed, block off brake-cooling ducts to improve aerodynamics. That's another Porsche first. The Taycan can also regenerate energy while slowing at any rate, up to and including ABS stops, where the braking system first maxes out the regen capability and then adds additional friction braking on top of the regen.
- It's a four-seater sedan for a reason
Meier says the sedan configuration was chosen because the Taycan needs to sell in high enough volumes to meet worldwide regulatory requirements that a sports-car could never achieve. But Porsche was determined not to lead with a SUV because it wanted its first EV to be as dynamic as possible.

However, it's not simply an

electrified Panamera

. The Taycan is a size-class smaller, with aggressively sloped hood- and rooflines. In fact, sitting in the passenger seat, the hood appeared to plunge faster than that of the

new mid-engine Corvette

we sat in recently. And the Taycan has a trunk versus the Panamera's hatchback because the space required to package the hinges on a hatch would've either negatively impacted rear visibility or raised the roofline.

Rear-seat legroom in the Taycan is quite generous, although the top of this six-foot-five evaluator's head was just brushing the optional glass roof in the car we rode in; Meier says that the rear-seat headroom is about an inch less than the Panamera's. Part of its rear-seat spaciousness was enabled by strategically removing two of the battery pack's 33 individual modules from the area where rear passengers' feet reside, dropping the floor there more than three inches. As passengers slide their feet further under the front seats, though, they'll notice a steep ramp back up to the floor height found in the rest of the cabin.
- Car and Driver predicts that the Taycan's range in the U.S. will be closer to 200 miles than 300.
Although Porsche has claimed a 500-kilometer range (311 miles), that's using the European NEDC cycle, which is far less taxing than the EPA's. On our ridealong, we saw a predicted 234 miles starting with a full charge, which seemed accurate for our southern California drive loop that ranged from 70-mph highway cruising to storming up a twisty mountain road. And that, combined with reading between the lines of Meier's comments about wanting to "be conservative" with the range figure and to make it "achievable" has us expecting a United States rating closer to 200 than 300 miles. Again, we'll be testing this for ourselves as soon as we can, because the two-speed gearbox may enable better highway range than is the EV norm.
- There's no one-pedal driving
Many EVs provide enough deceleration when lifting off of the throttle to bring the vehicle to a complete stop and enable true one-pedal operation. Not the Taycan. Citing the fact that the most efficient thing to do is coast, and clearly not trusting the pedal control of its buyers, Meier said they decided to not offer much regen capability and instead wait to do the majority of regen when the driver pushes the brake pedal. There are two settings, though. The default is none, but a slight amount can be enabled, if desired.
- Why there are two charge ports
In a word, convenience. It's to allow Taycan buyers with tight parking confines to choose which side is easier to access. Behind the passenger-side flap is a SAE-standard CCS plug configuration, today's go-to setup to accommodate AC and high-voltage DC charging. (There also will be CHAdeMO hardware for the Japanese market.) On the driver's side is a second, AC-only port. What if someone tries to plug into both ports? It can't happen; if one port door is open, the other locks.

Charging should prove to be one of the Taycan's strong suits, as it's the only EV with an 800-volt operating force, which reduces the current required to charge quickly and also saved 66 pounds of wiring in the Taycan, according to Meier. Porsche claims that the Taycan will have the ability to add 62 miles of range in just four minutes when using a 350-kW fast charger, and the company

has committed to installing 500 of them in the U.S.

through Electrify America, the dieselgate makegood program.
- There's no fake sound

The sound that's there is a low whine from the electric motors under acceleration and during regeneration. In Sport Plus mode, it morphs into a much lower-frequency, more spaceship-like noise but, this, too, we're told was created using recordings of the Taycan's electric motors on a test bench. During steady-state cruising the motors are silent, and Porsche has successfully silenced any high-frequency noise from the power electronics.